How to organize your Pinterest Board with easy drag and drop – If your Pinterest Board is not well organized, then visitors will be confused about which are the important boards and they can easily navigate to other boards by arranging the board perfectly.
You can arrange the boards easily, In this post, I will share the step-by-step guide on how you can easily arrange the boards. For a fresh look, you need to change your boards cover image, and design a fresh image for every board cover,
this looks amazing when you keep all your board's cover images fresh, and don't use hard colors for your cover image, and choose the perfect size for your board cover image.
After completing all these tasks your next step is to arrange your board.
How To Organize Pinterest Boards – Easy Drag and Drop
To organize your board, you need to log in to your account, then follow these steps below –
1. Go to the board section
Firstly go to the board's section by clicking on the saved option on your dashboard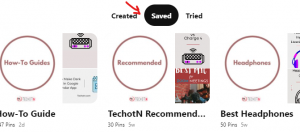 2. Click on the filter icon
When you click on the saved option, now you can see all your boards and in the right sidebar you can see a filter icon, just click on that

3. Click on Drag and Drop option
When you click on the filter icon, you can see three options below, to organize your boards manually just click on Drag and Drop option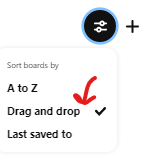 4. Organize your board
When you click on the Drag and drop option, now you can clearly see all your boards, and just drag and drop to organize your board to the perfect place.
Conclusion
In this post, I shared the step-by-step guide on arranging the board perfectly on Pinterest, If you like this guide then subscribe to our newsletters to get the latest post notification in your inbox, and don't forget to follow me on social media handles.