How to grow your Pinterest page in just one month after launching the page. Pinterest is one of the high engaging platforms that boost up your business through your attractive pins.
Why Pinterest is the best platform to sell your services or products? well, in Pinterest you don't need extraordinary work, just create high engaging pins, and then see the results.
What are the pins? Pins are just an image, but you have show your product details to get high engagement in your every pin. In every image(Pins) design for your audience not you like the most.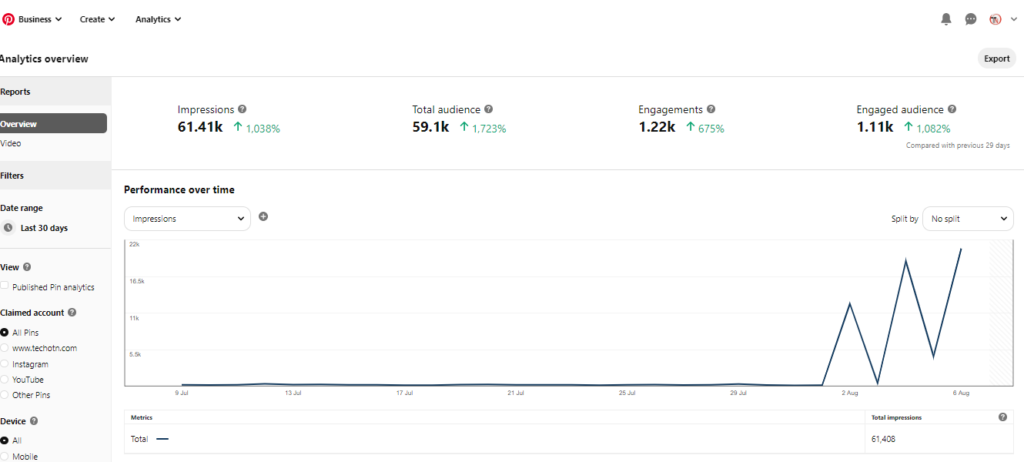 You can see the screenshot above, this is my Pinterest page ( Techotn) analytics, here you can clearly see in a day 20k impressions on my pins. This is huge traffic in a day and you can imagine that if you promote some products then what is the results.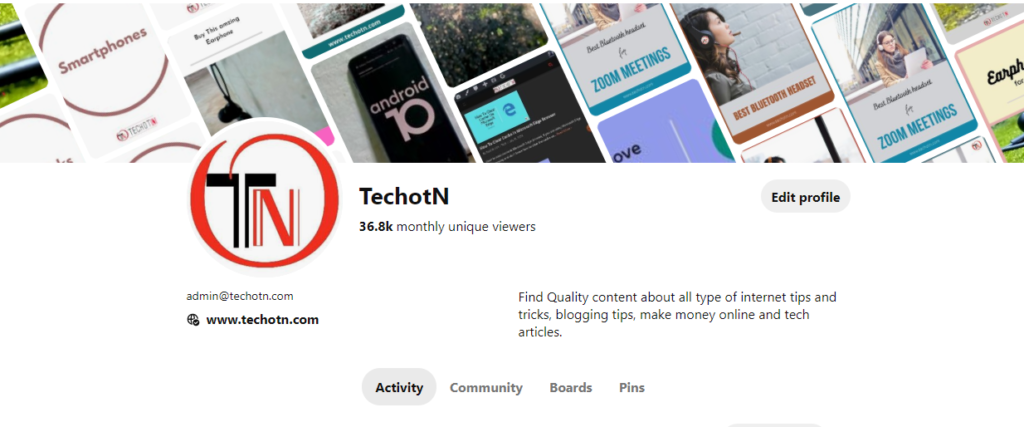 I have 5 boards and I update 2-3 Pins per day and see the results, If you work hard on your Pinterest page then your business will grow with your Pinterest page.
How You Can Grow Your Page Like This One
To grow your page you need to update regularly on your page, I think you should fix the time of publishing pins on your profile. Second thing is to create highly engaging images(Pins), for this, you can hire someone or if you can create pins for your profile then this is very nice.
While creating pins, select the color of your pin that people are loving, like white is the best for Pinterest Pins, Use text over your pins to tell more about your product or business.
Use Canva for creating pins for your page. This is a powerful tool for creating graphic design that you love to create, add a call to action to your pins, this will increase the engagement of your pins and also increase click-through rate(CTR).
Use Dimension Of 1000*1500px
This is the recommended size of the Pinterest pin, but you can use the custom size on your pins, long size pins are also a high conversion pin size.
Choose Color For Your Pin
Try to use basic color like white, light yellow, light grey, light pink because basic color highlighted your text on the pin, so viewers can easily read the text.
Use High Quality Images
If you want to use relevant images for your pins, then use high-quality images, because when viewers see your pin on a mobile device your pin will fit according to their mobile screen size, if you use low-quality images then the image will be blurred on the big screen.
Add Call To Action
Use call to action like add your website, or if you have social media handle then you can use it for call to action in your pins.