Pinterest Login – There are three ways available to login your Pinterest account easily, In this post I will share you the 3 way to enter your dashboard. Pinterest is high conversion rate social media platform,
you can get targeted traffic to your blog, website or any landing page, If you create a Pinterest account then you have two options first is personal and second is business account.
Personal is like a normal profile on Pinterest that allow you to Pin any image from another creator and save on your boards, in this account there are many features available on business account.
If you creating Pinterest account for getting traffic to your website or blog or any landing page then you need to create a business account not a personal account remember that,
so while creating account you can see different ways to create a account, first is email and username second is from your Google account and third is Facebook account.
Sometimes login through Google not working because of you turned off third part cookies on your browser,
If you think to login with Google account from incognito mode then you need to enable third party cookies on your browser.
3 Way To Login Your Pinterest Account
Login through your email and password is easy, but you can login with Google account you need visit setting page on your Pinterest account and go to account settings and scroll down the page
then you can see an option of enable login through your Google account just enable this option and now you can login through Google account directly.
Login Through Your Email And Password
This the first way to login your Pinterest account, You need to just enter your registered email id and password that you created while signup Pinterest account.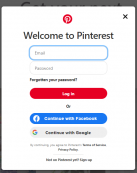 Login With Your Facebook Account
If you have Facebook account then you can sign in directly with your Facebook account, While login just click on "continue with Facebook" option and then you can see a popup window with Facebook login page,
After login to your account you can enable sign in with Google account, this is very easy to sign in to your Pinterest account.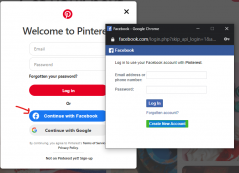 Third And Last Option Is Login With Your Google Account
This is very easy to login on your Pinterest account, If you created your Pinterest account through Email id and Password then you can enable Login with Google option on your Pinterest setting,
these are the 3 way to Pinterest login,
you can use any one to sign in on your Pinterest account,
If you are facing any issue regarding Pinterest Login
then contact to Pinterest and share your Problem, If you like this post then share with your friends.