How do I delete a board on Pinterest – Pinterest is one of the most growing social media platforms, Many online businesses are using Pinterest to gain customers without spending much.
This fastest way to get traffic on your website, if you are a beginner and start a website you don't have enough investment for hiring content writers, SEO experts on your website, so firstly you need investment in all these things then you can grow your website.
And for the investment you need an earning source, If you think to make money from your website without much investment then you need free traffic on your website, and how you can get the free traffic? the answer is Pinterest.
You can get free traffic on Pinterest without much investment, so how it works? stay tuned with me i will cover all your question in upcoming blog posts.
Pinterest is a social media platform that users can pin their favorite pin ideas on different topics like – food, fashion, a healthy lifestyle, and other things.
When you pin some images in one place on your profile this is called boards, and also you can create a section on a board to arrange your pins beautifully.
in this post I will cover how you can delete your Pinterest boards easily, boards are really helpful to arrange your pins in one place so visitors can easily find your all categories on your page with these boards.
How Do I Delete A Board On Pinterest
Pinterest boards get featured on the home feed of Pinterest sometimes if you write properly heading and description of the boards,
and if you created a board mistakenly and don't know how to delete the board from your Pinterest page then follow the steps below –
1. Go To Homepage
Pinterest removes many things on the home page, to view your boards you need to login your account firstly, then click on your profile pic icon on the right sidebar and then go to created section, then finally you can see all the boards that you created on your page, to delete your specific board you need to find the board first,
2. Click On Edit Icon
When you find your board the you can see small edit icon on the boards lower- left side, and you need to click on this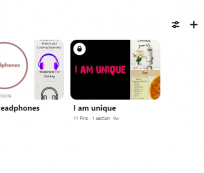 and then you can see the delete option on the new popup window,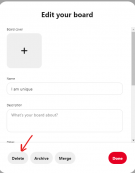 also you can manage your boards all settings from here like – merge to another boards, archive, you can edit the name of your board and description, and you will get an option to keep your board secret.
Conclusion
In this is post I shared the tricks to delete your mistakenly created boards on your Pinterest within few minutes, and also you can hide the board if you want to just hide from your page, you can still see the boards but visitors can't see the hide board. If you have any quires regarding this post then let me know in the comment section below. See you in the next blog post.