How to hide or unhide boards on Pinterest – If you want to hide any board or unhide any board on Pinterest but you don't know how to do this then read this post completely,
In this post, I shared the step by step process of how you can hide or unhide Pinterest boards, While uploading pins on Pinterest you want to check your pins how they are looking live on Pinterest but how you can do this,
You need a secret board where you can publish your pins privately, only you can your pins on Pinterest, This really helps you to preview your pins without life on Pinterest.
So in this post, you will learn how you can do this within a few minutes.
What's The Different Between Hiding And Deleting A Board?
Boards are very important for your profile, boards are really helping to arrange your pins in one place on your dashboard so visitors can easily understand what your boards are about.
While creating a board remember one thing is the name and description of your board will help you to get a better ranking on the home feed of Pinterest, Keep your board optimized and fresh.
The main difference between hiding and deleting a board is – When you hide a board then you can see your pins on that board and if you delete any board means your all pins are totally deleted from your profile and you can't see them,
but if you hiding a board then you can still see the pins but visitors can't see those pins that you published on your hided board.
That's the main difference between hiding and deleting a board from your profile.
How To Hide A Board On Your Pinterest Account
To hide any board you need to just follow these simple steps below –
Login To Your Pinterest Account
In The Right Sidebar Click On Your Profile Icon
Then Click On Saved Option
Select A Board Which You Want To Hide
Click On Edit Board Option
Then Click On "Keep This Board Secret"
How To Unhide A Board On Pinterest
To unhide a board just select your board and click on the edit board icon then scroll down and then you can see an option of "Keep This Board Secret"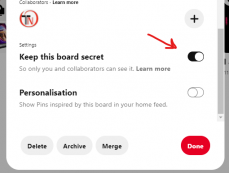 just turn off this option and now your board is public.
Conclusion
In this post I shared the step-by-step guide to hide and unhide a board on my Pinterest account, I hope you like this post. You can follow me on Facebook, Twitter, and Instagram and if you have any suggestions or queries then let me know.