How to connect Pinterest to Instagram account Easily – When you create a business Pinterest account then you need to set up social media handles or a website on your account, If you have a website then you have to verify on your business account, and like the website you can verify your Instagram account, Etsy account, and YouTube channel.
This is a very important step that you have to take while creating a business account on Pinterest, Why this is so important? well, when you publish content on your website or your Instagram page,
or your YouTube channel and if you did not verify your accounts on Pinterest then anyone can use your content on your Pinterest account, they can use copyright material from your website or Instagram account.
And when you verify your account on Pinterest, If anyone publishes your content on Pinterest then the images are automatically pinned on your profile because you already verified your account here, this is very helpful for creators to preventing from stealing content from their platform.
If you are a website owner then you have to paste a verification on your website, using HTML code, or upload a TXT file to your root folder, and like a website you can easily verify your YouTube channel directly by Google so you don't need to worry you can easily verify your all accounts on your Pinterest business profile,
In this post, I will show you how you can verify your Instagram account to your Pinterest business page within a few minutes so follow these steps and verify yourself on Pinterest.
How To Connect Pinterest To Instagram Account
To connect your Instagram account to Pinterest firstly login to your Pinterest account using your email and password or you can directly login through your Google account very easily if you already enable the " login through Google" option on your business account, after successful login to your Pinterest account follow the steps below to get verify your Instagram account.
1. Go To Your Pinterest Account Settings
On your dashboard you can see in the right sidebar after your profile logo, click on the arrow and then you can see the settings option below, You can clearly see it on the screenshot below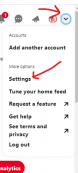 2. Go To Claim Option On Your Account Settings
When you click on the settings option now you can see the all settings of your Pinterest profile, you can change your profile name, description, and all other settings related to your account, the next step is going to the claim option, now you can see your all verified accounts here like website, Instagram, Etsy, YouTube channel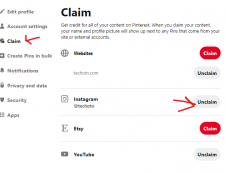 3. Claim Your Instagram Account
now the final step is just to click on the claim button on the Instagram option and that's it, When you click on the claim bottom you will be redirected to your Instagram account, and finish the login and now you verified your Instagram account on your Pinterest business page.
Conclusion
Claiming a profile on Pinterest is very important to protect your handwork and get more features on Pinterest, so if you like my guide to connect Pinterest to the Instagram page then share this post for helping others from this guide, If you have any suggestions or any quires let me know in the comment section below.