How to share Pinterest board – Are you want to share your Pinterest board with another user or using social media like Facebook, WhatsApp, Twitter, Email, then read this post I will share the quick how-to guide for sharing your board with anyone.
You can also share your board for collaboration with another Pinterest user, so they can get access to the board and they can publish pins on that board.
If you want to share your board on your social media platform, you can also share the board with another Pinterest user by searching the Email address in the search bar.
This is a very good idea to get traffic from many sources, especially social media platforms, or If you have an email list then you can send them via email address.
So, how you can share your board with another person or any social media handles, below I share the step by step quick guide that you can easily share your board with anyone within a few minutes.
To sharing a board you need to login your Pinterest account and then follow these steps below –
1. Choose a board
When you inside your Pinterest account then click on the saved option from your dashboard, and choose which board you want to share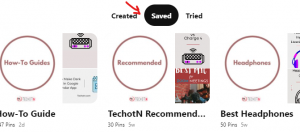 2. Click on three-dot option
After choosing a board you can see a three-dot icon above the board name, click on the three-dot option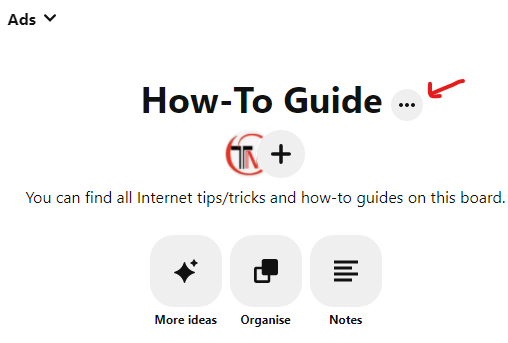 When you click on the three-dot icon, now you can see many option regarding the board, you can see many options below, for sharing the particular board you need to click on the share option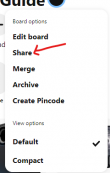 Last and the final step is when you go to the share option now you can see social media icons and email address options below, Here you can share your board with another Pinterest user or any social media platform, and also you can copy the sharing link.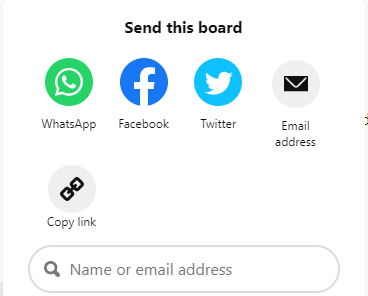 Conclusion
Sharing a board with another user is super easy, You can share via WhatsApp, Facebook, Twitter, Email address, or you can copy the link and share them anywhere you want, you have another option to share with other Pinterest user by putting their name or email address on the search bar. If you like this quick guide then follow our social media handles and if you have any quires or suggestions then let me know in the comment section below or mail me at [email protected]