How to edit Pinterest board cover – When you create a Pinterest board for a different type of category for your profile but the cover image is automatically added from your pinned images,
and if you don't like your current board cover then how you can remove the cover image and add your own cover image? In this post, you will find all these questions answer so read this post completely.
Well, when you pinned some images to your new board the cover image is automatically added to your board, to add your own cover image that is relevant to the board's pin,
You can design your own custom cover for your board, and upload it to your selected board.
How To Edit Pinterest Board Cover
To add your own cover image on your selected board you need to just follow these quick steps –
1. log in to your Pinterest account
Firstly login to your Pinterest account using your email and password, you can use your Facebook account or Google account to sign in to Pinterest
2. Select a board
When you are inside your Pinterest account just go to the saved option then you can find your all boards, and the next step is to select the board on which you want to change or edit the cover image,
3. Choose a cover image for your board
After selecting the board just click on edit bottom below the board, and then finally you have the option to edit the board cover, click the edit board cover icon then select your own image,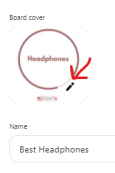 Choose a perfect size for the cover image, the cover size is squire shape, so when you design your custom cover then remember the size of the cover and create it, Fitting size cover image is looking very nice and if you a choose a cover image from your pinned images then the size will be 1000*1500 Pixels, please create a custom cover design and add to your boards cover.
Conclusion
Adding a board cover easy for your visitors to understand the boards, and it's really important to keep your boards transparent and easily accessible for the visitors. If you like this small how-to guide then subscribe to our newsletters for upcoming blog posts.